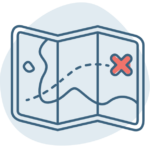 Whether you want to find a pod of dolphins, crank it up and pop a cold one, or soak up the sun on Crab Island- we can get you there. It's time for an adventure!
We can show you all the spots to hit and things to do for a full day of R & R on the water.
Crab Island is actually not an island, but a shallow area of water that is as little as waist deep in some parts. The water is clear and the colors show you just what it means to be on the "Emerald Coast."
You are vacationing in the world's most beautiful beaches… doesn't that make you want to get out on the water and have a good time?
Destin has one of the most beautiful sunsets you will ever experience! There is one caveat… you have to see it from a boat!